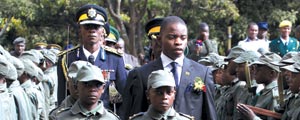 PARENTS with children at Chinhoyi High School have accused Child President Tatenda Christian Rusere, an "A" Level student at the school, of subjecting Form 1 students to four hours of corporal punishment during their induction last week.
STAFF REPORTER
The parents, who could not be named, told NewsDay the Form 1 students had been invited for induction between January 3-6 when one of them allegedly verbally abused Rusere, also a head boy at the school.
This allegedly angered Rusere who stormed the students' hostel and ordered them to kneel for four hours between 9pm-1am. Rusere became Child President of the Junior Parliament in June last year.
"When we visited our children to see how they were doing at Hanova Hostel, some of them were crying demanding that we take them back home because they had been tortured the previous night by the head boy," said one of the parents.
"We condemn bad behaviour by our children, but such kind of punishment is very harsh as some pupils might have health problems."
Another parent who also refused to be named said: "What surprises us is that the head boy is also the President of the Junior Parliament and we wonder what future can be expected from such behaviour.
"He is a student just like others and he should have reported the matter to school authorities and refrained from punishing the pupils harshly."
However, Rusere denied the allegations yesterday saying the charges had been cooked up to "blackmail" him.
He later referred all questions to the school counsellor John Manyika who also denied the allegations.
"Rusere is not capable of doing such a thing. I cannot defend him, but what I can say is that he is a firm head boy and this might cause other pupils to dislike him and plan to smear his name.
"It is also possible that people raising such allegations are jealous fellow students," Manyika said, referring further questions to the headmaster only identified as Rambanepasi.
However, Rambanepasi could not be reached for comment as his mobile phone went unanswered.
Although Education, Art, Sports and Culture minister David Coltart could not comment yesterday over the incident as he was attending a meeting, he is on record denouncing corporal punishment in schools.
The Zimbabwe Constitution (1979) as amended in 1990 allows "moderate" corporal punishment "in appropriate circumstances upon a person under the age of 18 years".
But Article 241 of the Criminal Law (Codification and Reform) Act and Article 66 of the Education Act (2004) allows corporal punishment only for boys.