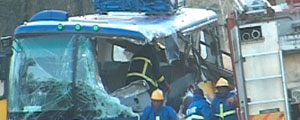 KWEKWE — Three passengers on board a Nissan Vannette perished on the spot and another one was seriously injured when their vehicle collided head on with a Zupco bus near Munyati River along the Kadoma – Kwekwe highway in the early hours of yesterday (Friday 5:20am) Blessed Mhlanga / Flata Kavhinga Staff Reporters
The bus driver escaped with minor injuries and was rushed to Kwekwe General Hospital for treatment together with the other passenger from the Vannette.
In the past six months accidents involving Zupco buses along the Kadoma–Gweru road have claimed a total of 21 people with the latest which claimed four family members at Connemara along the Gweru–Kwekwe road on Monday.
Kwekwe district police spokesperson Assistant Inspector Taurai Gororo confirmed the accident, but could not release the details saying they were sketchy.
Firemen who attended the accident told NewsDay the Nissan vehicle, registration number ACK 0374 with four passengers on board and heading towards Harare from Kwekwe encroached into the lane of the oncoming Zupco bus resulting in the two vehicles colliding.
The fire brigade crew had to reap through the Nissan Vannette to save the passenger who was still alive when help arrived some hour after the accident.
According to the police, the festive season of 2012 to 2013 has been the bloodiest in the nation's history.