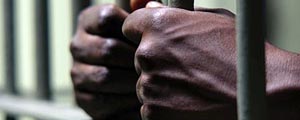 A HEARING and vocally impaired cellphone robbery suspect, who has been in remand prison for 10 months awaiting trial, was released before plea last Friday following the intervention of the Zimbabwe Lawyers for Human Rights (ZLHR).
REPORT BY SILAS NKALA STAFF REPORTER
ZLHR member Nosimilo Chanayiwa argued in court that his client, only identified as Simumumu because of his physical condition, had overstayed in remand prison.
"I negotiated with the State on his behalf and on Friday he was discharged before plea on the basis that he had over stayed in detention without prosecution," Chanayiwa said.
Simumumu is alleged to have committed a plain robbery involving $5 and a cellphone worth $20 in February last year.
The man started appearing in court for routine remand since March 3 last year when he was remanded in custody as the State sought to get details of his names, age and place of residence.
Following the lawyer's intervention on Friday, Bulawayo magistrate Thobekile Mkhosana withdrew charges against him before plea.
The court heard that on February 26 last year at 6am, the complainant Zikhali Mkombo (31) of Herbert Chitepo Street in Bulawayo was at Milton Junior School along Simon Parirenyatwa Street and 12th Avenue in the city waiting for transport to Burnside.
Four men, who included the accused, robbed him of his cellphone and $5.
Police later made a follow-up and arrested Simumumu while his alleged accomplices escaped.