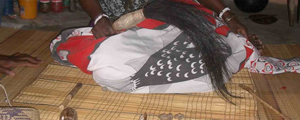 IRISVALE Clinic in Umzingwane district which closed about two months ago after staff fled the health institution claiming mysterious attacks by "goblins", is yet to be reopened amid reports that the mysterious creatures were now wreaking havoc at a nearby business centre. Report by Blondie Ndebele
The clinic was shut down on November 22 last year after four nurses fled following mysterious attacks by goblins.
Nurses have reportedly refused to go back to their workstation despite claims by villagers that the institution had been cleansed of the goblins.
"They took away those goblins and the clinic is now clean," Mhelethi Moyo, a villager, said.
"We need the nurses to prove it for themselves, but they still believe that they will get attacked if they come back.
"We have been hearing stories that the goblins have moved to businesses in this area. Several female employees in these shops have been complaining about the mysterious attacks. However, the clinic was cleansed and there are no goblins there anymore. Efforts have been made to bring back the nurses, but they are not showing any interest and some of them are now even working for other clinics in the district.
"The clinic will remain closed until we find people to work there." Matabeleland South provincial medical director William Busuman could not be reached for comment as he was said to be out of office yesterday.