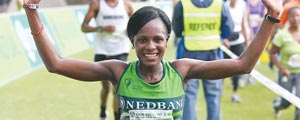 WIRIMAI Zhuwawo and Rutendo Nyahora romped home first in the men and women's category to win the Old Mutual Nkulumane 10km Fun Run yesterday. REPORT BY SUKOLUHLE MTHETHWA SPORTS REPORTER
Juwawo and Nyahora pocketed $600 each in the process.
The experienced independent athlete Juwawo, who represented Zimbabwe in the London Olympic Games in August, clocked 29:50,03secs to emerge the winner of the race.
In second spot was George Majaji of Freda Rebecca Mine on 30:6secs walking away with $400, while New Zim Steel's Elmore Sibanda was third in a time of 30:12secs to win $300.
It was another good show from runner up Majaji who won the Hope Fountain 30km race a fortnight ago.
Nyahora crossed the line in 34:38secs while Olivia Chitate from Zimbabwe Republic Police clocked 35:10secs to get $400 in the process. Independent athlete Constance Nyasango received $300 after coming third in 36:30secs.
Samson Muroyiwa (independent) crossed the line first in the men's wheelchair category in a time of 31:16secs to clinch the first prize of $400, while Elford Moyo (independent) was runner up in 32:08secs pocketing $300.
Nicholas Nyengera (Black Rhinos) emerged winner in the masters category in 34:26secs while Patrick Chipoyi (independent) was runner up in 35:23secs.
Nyengera and Chipoyi received $60 and $40 respectively.
Sikhosini Khumalo a 71-year-old athlete was first in the grandmasters category in 41 minutes pocketing $60.
Mbonisi Unga and Tabitha Tsatsa (both independent)won the veteran men and women's category. Unga finished the race in 35:54secs while Tsatsa was first in 39:26secs.
Both athletes received $60 each. Raymond Shama was first in the boys' schoolchildren category in 32:33secs, while Nobukhosi Ncube and Precaution Ncube were tied on position one in 41:27secs.
The athletes pocketed $100 each. Bulawayo Athletics Board secretary Dailes Bingadadi was impressed with the turnout of the race which was last held in 1999.
"We were very happy with the turnout because we got 250 athletes. The weather was also good for the athletes. We are also happy the race also included children as we want everyone to be involved," she said.