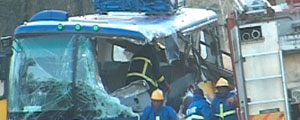 THE National Blood Service of Zimbabwe (NBSZ) said its blood stocks had dwindled to less than a week's supply due to a sharp increase in road accidents recorded this festive season. Gamma Mudarikiri/Feluna Nleya
NBSZ spokesperson Esther Massundah told NewsDay yesterday that only 1 551 units of blood were in stock, which is below the standard weekly reserve of 2 500 units.
"As of Thursday this week, we were left with less than a week's supply of blood, hence there is need to boost our blood bank as the festive season is still on," she said.
"We are, therefore, calling upon our regular donors and other people who are eligible to donate blood to come in their numbers and help save lives."
Massundah said when schools open, the NBSZ would intensify its campaign programme to encourage adults and youths to donate to the national blood bank.
Youths contribute about 70% of the country's blood requirements.
Massundah said the demand for blood was excessively high in Harare and Bulawayo although quite a number of road accidents were recorded across the country.
Meanwhile, police spokesperson Superintendent Paul Nyathi yesterday said the festive season's death toll had increased to 150 following the death of seven more people in three fatal accidents that took place across the country on Thursday night.
Nyathi said police had so far recorded 906 accidents this season as compared to 889 accidents that occurred over the same period last year. Manicaland province recorded the highest number of road traffic accidents (33), followed by Mashonaland East which recorded 26 and Masvingo 24.
He said as of yesterday afternoon, traffic police had issued 10 772 tickets and impounded 934 unroadworthy vehicles.