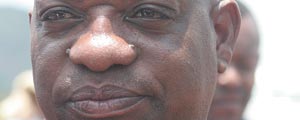 FORMER Dynamos chairman Ignatius "Boss" Pamire, now leading a civic organisation — Pan African Development (Panad) — insisted yesterday Zifa violated its constitution when it banned players and officials over the Asiagate match-fixing scandal. Sports Correspondent
He said he would take the association to court if it does not rescind the suspensions. Pamire said this in response to Zifa who dismissed his organisation as misleading players after it gave the soccer mother body a two-week ultimatum last week.
Zifa president Cuthbert Dube had not responded to the issuance of the ultimatum by Pamire's organisation as he was away in Brazil attending a Fifa 2013 Confederations Cup organising committee. But on his return he said Zifa did not take instructions from Pamire.
Dube said Zifa was not answerable to non-football bodies or civic organisations and that the conduct of their judicial bodies was governed by Zifa, Caf and Fifa statutes.
He added that Pamire's organisation had no right to lecture Zifa on matters of football statutes and that it was a violation of the association's statutes and those of Fifa to take football matters to court.
However, Pamire said although they respected Zifa as leaders of the game, they expected the bosses of the association to follow procedures.
"We respect Zifa as leaders of the game, but they should follow due process in what they do. They have to respect their own statutes. It is unfair to players as it is affecting their families. So we are saying as a civic organisation, we are against poverty and it's unfair for the players and their families to be driven into poverty without due process being followed," Pamire said.
Pamire also dismissed Zifa's suggestion that football matters could not be taken to court citing ex-Zifa chief executive officer Henrietta Rushwaya whose matter is before the courts.
"A football person, Zifa former chief executive officer Henrietta Rushwaya, has taken them to court. We are a civic organisation and will take them to court if they don't nullify the suspensions they meted out on the players. They can be taken to court," Pamire maintained.
The previously-unknown advocacy group emerged on Thursday last week accusing the soccer mother body of stripping human rights of nearly 100 players and officials affected by punishments which followed an enquiry led by Retired judge Justice Ahmed Ebrahim.
Zifa announced sanctions ranging from six-month suspensions from the game to life bans, with those affected being asked to fork out $6 000 to appeal.
Pamire's group said Zifa was turning into "an extortionist organisation that now wants to rob players and officials in a well orchestrated scam disguised as Asiagate".