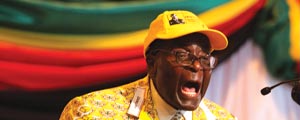 A Cabinet committee set up to break the deadlock in the constitution-making process will meet today after it missed President Robert Mugabe's Christmas Day deadline to conclude the exercise.
Report by Everson Mushava
Mugabe had threatened to unilaterally dissolve Parliament and call for fresh elections if the deadline was not met.
He made the threats at the recent Zanu PF annual conference in Gweru.
The 88-year-old leader risks isolation from the Southern African Development Community (Sadc) if he calls for polls without the minimum reforms demanded by regional leaders.
Under the Global Political Agreement (GPA) brokered by Sadc in 2009, a referendum on the new constitution must be held before elections can be called as a way of avoiding bloodshed that characterised the last polls.
The Cabinet committee had been scheduled to meet on Christmas eve to thrash out the more than 30 issues the three governing parties have differed on.
Douglas Mwonzora, the MDC-T Copac co-chairperson yesterday confirmed that the committee would meet today, but described Mugabe's deadline as impossible.
"The December 25 deadline is impractical. We are meeting tomorrow (today) to try to find common ground," he said.
MDC-T and Zanu PF have been accusing each other of delaying the constitution making process.
The committee set by Mugabe and Prime Minister Morgan Tsvangirai is made up of Justice minister Patrick Chinamasa (Zanu PF), Finance minister Tendai Biti and Regional Integration minister Priscilla Misihairabwi-Mushonga (MDC).
The three Copac co-chairpersons — Mwonzora, Edward Mkhosi (MDC) and Paul Mangwana also sit on the committee.
Constitutional and Parliamentary Affairs minister Eric Matinenga chairs the committee.
The parties have failed to reach an agreement on issues such as devolution of power, appointment of governors, executive powers for the President, the National Prosecuting Authority and dual citizenship, among other issues.
Mangwana insisted in a recent interview with a United States news agency Bloomberg that Mugabe would call for elections if there was no agreement on the constitution this month.
"There are about 30 outstanding issues that haven't been resolved so Zanu PF has resolved that an election will be called by President Robert Mugabe if no progress is made this month," he said.
Mugabe usually goes on holiday in January for the whole month.
A Sadc meeting in Tanzania early this month reiterated the regional body's stance that fresh elections in Zimbabwe were not possible without reforms.
Tsvangirai also told Bloomberg that Mugabe could not unilaterally call for elections because of the GPA.
"It isn't up to Mugabe, it is up to the people of Zimbabwe," Tsvangirai said.
"It's their constitution and they own it.The election has to be agreed by all parties and Sadc."
Mugabe has been threatening to call for elections with or without reforms in the past two years saying the inclusive government had become dysfunctional.
The threats have brought uncertainty in the economy sparking a reversal of gains made under the inclusive government.