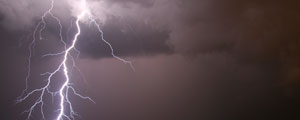 LIGHTNING struck three teenage boys from Makoni in Manicaland on Saturday, instantly killing one of them while the other two sustained burns. BY OUR STAFF REPORTER
Police in Manicaland confirmed the incident and identified the deceased as Panashe Zeriwa (14). His injured peers were identified as Ryan Chisvo (12) and Emmanuel Zini (15).
Provincial police spokesperson Inspector Enock Chishiri said the incident occurred after the teenage herd boys sought shelter inside a cave at Ruombwe Mountain.
"After the bolt, Ryan and Emmanuel, who sustained some burns, escaped and went on to advise some villagers who later came to retrieve Panashe's body.
The two were later rushed to a local clinic where they were treated for burns," Chishiri said.