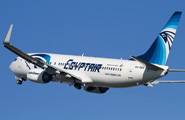 EGYPT Air is scheduled to join the growing number of foreign airlines returning to Harare when it resumes flying into the country in June 2013.
Report By Acting Business EDITOR
The airline stopped flying into the country nine years ago.
According to online media reports, Egypt Air plans resuming flights on June 1.
The reports said the Star Alliance member was planning to extend existing four weekly Cairo–Dar es Salaam (Tanzania) service to Harare, on board Boeing 737-800 aircraft.
Currently reservation for this flight is not available and the global distribution systems (GDS) timetable listing is only displaying one-way flight.
In May this year, Egypt Air celebrated its 15-year Star Alliance network anniversary having grown from just five airlines in 1997.
First to return to Zimbabwe was Emirates in February this year after adding Harare and Lusaka in Zambia as its newest destinations.
"Emirates has long understood the enormous potential of Africa, which today is one of the fastest expanding economic regions of the world, benefiting from a combined market of over one billion people, rising consumer demand and an abundance of natural resources," said Sheikh Ahmed bin Saeed Al-Maktoum, chairman and chief executive of Emirates Airline & Group at the time of re-introducing the service.
Last October, Royal Dutch Airlines resumed flights between Harare and Amsterdam after a 13-year absence.
KLM currently runs three weekly flights between Harare and Schiphol airport.
Since 2000, several international airlines, including Qantas, Air France and Lufthansa stopped servicing the Zimbabwe route as a result of the country's then deteriorating economic and political environment.
Foreign airlines have come in to fill up the space to regional and international destinations.
Ethiopian Airlines, Kenya Airways and South African Airways are some of the regional airlines that maintained services into Zimbabwe despite the political turmoil.
Several local airlines, among them Beks Safari, Wilderness Safaris Zimbabwe and Chinese firm Anjin have also applied for operating licences to fly routes that Air Zimbabwe has long been failing to service from the Air Services Board.