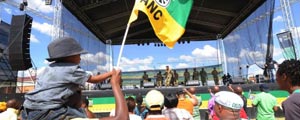 A DAY before the African National Congress' elective conference got underway, almost every street pole on Mandela Drive was plastered with an advertisement of a "home away from home". Report by Sapa
Outside the Central University of Technology, where thousands of delegates received their accreditation, a man stood with big posters calling on those who were in need of a place to stay.
"I'm not even sure if I'll get paid," he said. A significant portion of the over 6 000 people who had arrived at the Free State University would be based outside the campus. Guest houses and B&B's were enjoying a great piece of the business pie as major hotels were booked to the brim.
However, things did not start with the ANC conference in Mangaung. The hospitality industry in the province came to the party when Bloemfontein was announced as one of the host cities for the 2010 Fifa World Cup.
"A lot of people renovated their homes and turned them into guest houses. At that time, I was worried that we would not compete. But things went well," said Nadine Reynolds, owner of Aloe Ridge B&B in Mangaung. Also, earlier this year, the ANC brought smiles to the province's tourism sector with the party's centenary celebrations.
Reynolds' establishment is based in the suburb of Dan Pienaar, a 10-minute drive from the university and two kilometres from the Bloemfontein Stadium where the ANC centenary celebrations were held.
"It's a boom or bust here in Mangaung. It's either we are all booked or we are all not booked," she said. In the meantime, Reynolds said she was grateful for the latest events to come to the city.
"The conference has given us a boom ahead of Christmas here as most tourists go to coastal cities in the festive season," she said. Her B&B, which she runs with her husband, was facing a number of challenges. "The price of food is increasing and electricity prices have rocketed," she said.
Reynolds (62), who is a retired teacher, has been running the B&B for nine years. She can accommodate 10 guests per night in her home which boasts a beautiful garden and classic feel. Just a few streets away from her was her friend Florein de Winnaar (45) who owned the Flo-Ben Guest House.
"When the Macufe Festival takes place, there are seven other events taking place in Bloemfontein," said de Winnaar. But Winnaar had some concerns. ". . . we want the industry to succeed. The municipality must get their act together and regulate the industry."
She said the other challenge was that Bloemfontein had not been marketed as a tourist destination, but a stop-over for people going to other provinces. "We are the heart and beat of South Africa because we are situated in the centre. We are also the breadbasket of the country," said Winnaar.