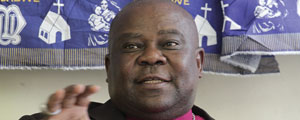 HIGH Court judge Justice Antonia Guvava yesterday reserved judgment in an urgent chamber application filed by Daramombe High School boarding master Richard Itayi Jambo, seeking to bar the Church of the Province of Central Africa (CPCA) from evicting him from its premises. REPORT BY CHARLES LAITON SENIOR COURT REPORTER
Justice Guvava reserved her determination on the matter after lawyers representing both parties raised numerous technical points.
Jambo had accused CPCA, under the leadership of Bishop Chad Gandiya, of indiscriminately enforcing a recent Supreme Court order which granted him authority to take over church properties.
In his application, Jambo claimed Gandiya was now targeting anyone who once served under the leadership of defrocked bishop Nolbert Kunonga.
He claims that his eviction was illegal and had not been sanctioned by the Supreme Court or the High Court of Zimbabwe.