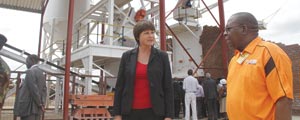 VAKA CONCRETE, a wholly indigenous construction company, yesterday unveiled its $4 million world-class concrete-building products plant in Harare. Report by Mernat Mafirakurewa Acting Business Editor
The company will initially produce 150 000 bricks per shift and will gradually increase its production. Vaka Concrete chairperson Joe Mutizwa — whose JSM Capital is the majority shareholder — said in making the investment, JSM considered the high acceleration rate of urbanisation in the country and the widening housing shortage.
"When we were approached as an investor, we did not hesitate because we felt the project itself was very good," Mutizwa said. "We also looked at the demand in infrastructure in the economy. Because of the economic challenges, this country has not invested sufficiently in infrastructure and, therefore, we felt that as investors, when the brakes are taken off spending on infrastructure, there will be a tremendous boom in that sector and we wanted to be part of it." Mutizwa said there was already a momentum being generated by mining companies, property and insurance companies, all wanting to be back in the housing sector.
Deputy chairperson Nyasha Zhou said shelter was the number one need after food and health. He said the company was ready to produce materials according to customer specifications.
"If we have a building project, a cluster home we will produce the colour for both the bricks and pavers to suit the contract," Zhou said. "Our dream is that 60% of throughput should go into projects.
"We are gearing ourselves for when Zimbabwe is alive and awake and we don't think it's too far." He said Vaka's vision was to make homes affordable. Speaking at the official launch of the plant, Acting President Joice Mujuru paid tribute to Vaka Concrete for complementing the government's efforts of providing housing for all by 2030.
"In order for Zimbabwe to realise its dream of restoring the manufacturing as a key pillar for spurring economic growth, there is need to take note of a number of imperatives," she said.
"The natural resource endowment of Zimbabwe should provide a foundation for its industrialisation."