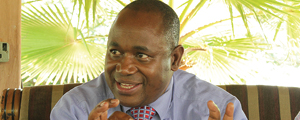 A NUMBER of microfinance institutions (MFIs) are behaving "like goblins" charging usurious interest rates that negate their objective of helping the poor, a senior Reserve Bank of Zimbabwe (RBZ) executive has said.
Business Reporter
Norman Mataruka, the senior division chief for banking licensing, supervision and surveillance, told guests at the launch of the Zimbabwe Microfinance and Wholesale Facility (ZMWF) last week that MFIs had to embrace good corporate governance and abide by the rules to build confidence in the sector.
"In other instances, some MFIs were charging unsustainably high interest rates, as much as 40% per month and up to 48% per month, contrary to the objective of microfinance, that is, uplifting the standards of living of the poor," Mataruka said.
Other than charging high interest rates, some MFIs have been ruthless when dealing with defaulting clients. In some cases they sell assets pledged as collateral by clients.
Mataruka said it was important that such a sector be regulated to remove the lawlessness that was anathema to economic development.
"You can imagine yourself having a nice car, but there are no traffic rules and everybody is a matatu driver," Mataruka said.
A matatu is a Swahili name for privately-owned public transport. Mataruka said when the financial sector was liberalised in 1990, "people who never deserved to be bankers found themselves in the banking industry".
"They always say the best way to rob a bank is to form one. We have got people who robbed others directly by forming institutions."
Over a dozen banks have been closed since 2004 for the same ailments — concentrated shareholding, weak corporate governance, owner managed or controlled and insider loans which all turned out to be non-performing.
ZMWF is an apex fund set up in 2010 to provide wholesale funding to qualifying MFIs for on-lending to micro and small enterprises and the economically active poor. It is supported by Hivos, Department for International Development and German Agency for International Co-operation.
To date, ZMWF has approved eight loans amounting to $620 000. Its objective is to create and support 18 000 jobs by 2014.