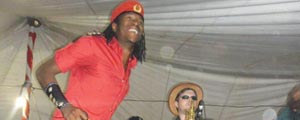 THE Zimbabwe National Army (ZNA) Charity Gala held over the weekend at Borrowdale Racecourse, Harare, lived to its billing and attracted scores of people from all walks of life.
TATENDA KUNAKA /JOSEPH MURAMBIWA
As early as 9am, crowds, toddlers to elders were thronging the venue in anticipation of the event.
Motorists battled for parking space and it was truly a nightmare to walk from the gates into the venue.
There was plenty of entertainment ranging from horse racing, horse riding and a ZNA raffle draw which saw five individuals walking away with big prizes.
Prizes included sponsored return tickets to Victoria Falls and LCD flatscreen televisions, and free one-day outing at Holiday Inn Hotel. Most importantly, the gala was a fundraising event for the less privileged members of society and other beneficiaries from the ZNA.
Clad in all-white army suit, Sniper Storm "The General" was the first to wow the audience with an up-to-scratch performance that was received well by the audience.
He belted out tune after tune and got the fans on their feet with his yester-year hit song Kubhinya.
The song took the fans down memory lane to when he first broke on to the mainstream music arena.
Sulumani Chimbetu and Mukudzei Mukombe popularly known as "Jah Prayzah", put up a good show that kept revellers entertained. Fans went into delirium when Jah Prayzah introduced Chris Oswell, a musician from the United Kingdom, who played Gochi Gochi using a trumpet. The level of performance he set was high that many fans had counted "Sulu" off.
Sulu was not deterred by Jah Prayzah's performance as he brought the house down with a five-star performance that left fans crying for more. He opened his set with the song Gamba and went on to play his late father's hits including Dzandipedza Mafuta.
During Sulu's hour-long slot, soldiers had a torrid time trying to calm down and control fans as they kept on getting closer to and interfering with the stage.
More than 5 000 fans graced the occasion.