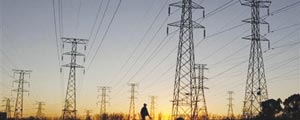 A 32-year-old Mutorashanga man learnt the hard way that crime does not pay after a Chinhoyi magistrate sentenced him to an effective 10-year jail term for stealing over a kilometre of Zesa overhead copper conductors worth $13 500. REPORT BY OWN CORRESPONDENT
The accused, Owen Chagwaya of Lone Cow 9, Mutorashanga, on Wednesday appeared before regional magistrate Solomon Jenya for contravening section 60 of the Electricity Act chapter 13:19 pertaining to "cuts, damages, destroys, interferes with apparatus used for the generation of electricity".
The court averred on October 25 last year, Chagwaya went to Lone Cow 14 armed with a pair of pliers with the intention to steal copper cables.
He then scaled down a Zesa power line, took 1 350 metres of copper conductors which he rolled into six bundles and concealed his loot at his backyard.
On November 19, 2012, police received a tip-off that Chagwaya was hiding copper cables at his house and went to investigate. When quizzed over the matter he confessed to stealing the Zesa cables and the stolen property was recovered from a pit. Chagwaya told police he was still searching for buyers, leading to his arrest.
In mitigation, Chagwaya told the court he had found the cables lying on the ground and had taken them to protect the public and livestock, an alibi the court dismissed.
Farai Zachariah prosecuted.