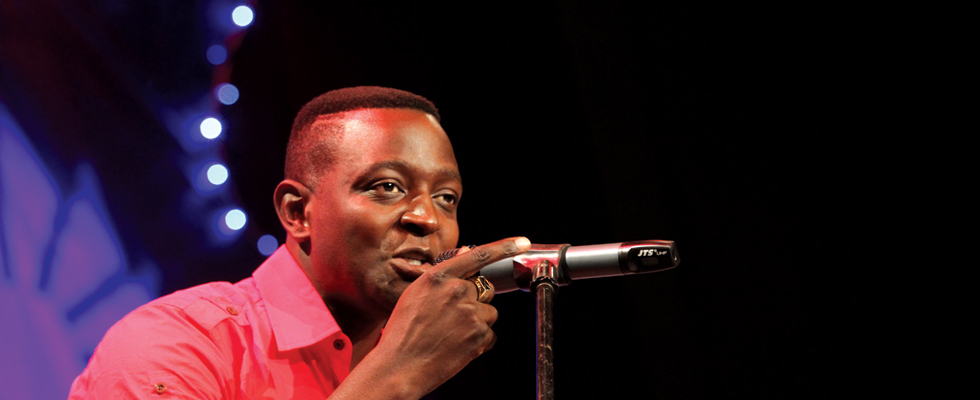 HARARE St George's College Sulumani Chimbetu takes his Syllabus (new album) to the classroom when he performs at the college today.
ENTERTAINMENT REPORTER
Tomorrow he performs at Chakari Stadium.
Musakanene Bar It's the "feel rural factor" at Musakanene along Old Seke Road near Irvine's farm tonight with DJ Jaguar selecting old skool tunes alongside DJ Gatz (Snr).
Tomorrow the party continues with First "Atembo" Farai rocking the place. Ngoda Girls are back by public demand on Sunday afternoon. City Sports Bar Tonight the Mountain Vibes will entertain revellers at City Sports Bar before making way for DJ Zee and company for the DJs' party tomorrow.
It gets hotter on Sunday as fans sendoff Sulumani for his two-week United Kingdom tour that begins next week.
Sulu will be supported by rising star Jah Prayzah at the farewell show. Sports Diner International Sungura and rhumba musician Energy Mutodi tries his luck at Sports Diner tonight.
His fortunes have not been good and staging a show in the absence of the big guys in town could be a blessing for for him. Hwenje's Village Tonight young dendera artiste Douglas Chimbetu joins the family trail with a performance at what has become the home of dendera music in Glen Norah.
Tomorrow Amajimbos take over. Las Vegas Sports Café Tryson Chimbetu will be out to prove his mettle tonight at Las Vegas in Mufakose before he makes way for Biggie Tembo Junior tomorrow at the Mbada Diamonds Cup after party.
Pick and Save (Mutare) King of Sungura Alick Macheso plays at the newly-opened Pick and Save venue tonight.
He takes along his loyal lieutenant Progress Chipfumo who is also proving to have found his groove after his sick leave.
Grand Hotel (Kadoma) After the Mutare stint, the duo of Alick Macheso and Progress Chipfumo goes to Mashonaland West for a show at the Grand Hotel.
The duo rounds up the weekend with a family show at Harare Gardens, ending the weekend in style.
Ritz Night Club (Masvingo) Peter Moyo and Utakataka Express play at the joint tonight before they take to the newly opened Red Parot in Zvishavane. He rounds up his weekend at Mbizo Inn in Kwekwe. BULAWAYO Bulawayo Theatre Seven Hip Hop artistes from Bulawayo will launch their music CDs tomorrow at Bulawayo theatre starting at 1pm.
The artistes include Phathisani Nyathi also known as Kidd Eggo, Tafadzwa Tarukwana (Kwan Fire), Devine Sean Chisenwa (Sean D), Melusi Nyathi (Maestro), Madodana Nyathi (Madots) and the Tariqs Crew.
Basement Night club Tonight its "old school jams" with resident DJs Nash and Ericado.
Tomorrow is night of drums with DJembe Monks plus DJs Nash and Ericardo.
Sunday is "Stockvel Party" with Iyasa plus resident DJs Nash, Ericado, Jay B and Martin.
Club Royal Tomorrow Jah Prayzah, supported by Vibe Stars and Exotic, will be playing at the club. On Sunday pole dancers Zoey and Red Angels will be performing at the club.
Club Down Tomorrow night the club hosts Silverstone Sound featuring DJ Mad Minox from Cananda backed by DJ Admire , DJ Tonny Touch and DJ Beatz Takarangana Nightclub (Gweru) Ndolwane Super Sounds perform at the club tomorrow night. The group goes to Manjengwa Nightclub in Shurugwi on Sunday.
Siboza Leisure Centere (Zvishavane) Tomorrow night the club will host Peter Moyo featuring Shuro Jazz Band.