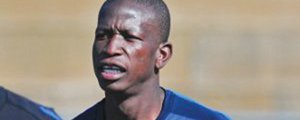 JOHANNESBURG — BIDVEST Wits defender Thomas Sweswe has begun the process of appealing against the life ban handed down to him by the Zimbabwe Football Association, his club's chief executive officer Jose Ferreira said. Report by Reuters
Zimbabwe has established an appeal panel to hear bids from 15 officials, coaches, journalists and players, all handed life bans for their roles in match-fixing involving Zimbabwe's national team tours to Asia.
This number includes Sunday Chidzambwa — up until a few weeks ago the coach of Black Leopards — and Mamelodi Sundowns defender Method Mwanjali. Former Caps United coach Taurai Mangwiro has already paid his fees and his case is set to be first to be heard.
But the long-winded process has taken another turn with a court challenge to get Zifa to reduce the $6 000 (R53 000) fee it is demanding before hearing any appeal.
The appeals committee is composed of advocates Silas Chekera, Thabani Mpofu and veteran football administrator Chris Mbanga.
Ferreira said Sweswe has begun the process, but is still waiting for a copy of the judgment against him and a transcript of the disciplinary proceedings. This has yet to be sent by Zifa.
Chidzambwa begun a High Court process in Harare last month to overturn his ban, but was quickly rebuked by Fifa, which warned him not to use outside channels to seek to overturn his ban, but to follow the correct football procedures: to appeal and, if unsuccessful, to then seek arbitration.
Wits said they have been communicating with Fifa throughout the process to seek clarity on a number of issues including the appeals fee.
Fifa, though, has remained steadfast that local channels should be exhausted first before any appeal with their judicial bodies.
Fifa is still investigating the process Zifa followed to impose bans.
If satisfied, the governing body is expected to extend the sanctions worldwide, which will stop Sweswe and Mwanjali from competing in the Premier Soccer League and Chidzambwa from continuing in his post as technical director at Leopards.