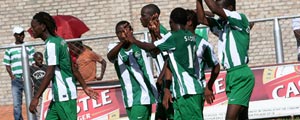 SAKUBVA Stadium is the action spot this afternoon. Monomotapa take on FC Platinum in the first of the two Mbada Diamonds Cup semi-finals set for this weekend.
REPORT BY HENRY MHARA SPORTS REPORTER
The other semi-final pits Dynamos and Caps United at Barbourfields Stadium tomorrow.
While the Harare teams have been getting much of the media attention this week, there is no doubt today's match promises to be as highly exciting and keenly contested as "Chinomakwa Nani" and "Kugona Kunenge Kudada" seek redemption for what has been a hugely disappointing season in the league.
For all its resources, FC Platinum has failed to exert themselves as title contenders and are sitting on fifth position on the league table.
As for "Monoz", there is only one way to look at their season this far: Expect the unexpected. The 2008 league champions have been through a dramatic, rollercoaster ride this season. Two coaches, up and down performances and a seemingly impending disaster, define Monoz's campaign.
Initially coached by Taurai Mangwiro, Monoz started the league season on a low and at one point looked in danger of finishing in the relegation zone.
But a sudden change of fortune mid-season, saw them moving up the ladder into position three and at one point, nagging leaders Highlanders and Dynamos.
Playing some of the most beautiful and attractive football long witnessed in the domestic league, they suddenly became the team to beat.
But a shock defeat to Gunners and then Dynamos in recent weeks, has once again reduced the Biggie Zuze-coached side into an ordinary team.
So for both squads, the Mbada Diamonds Cup presents redemption for what has been generally a disappointing season.
FC Platinum are where they are today in this competition after beating Harare City in the first round before edging city rivals Shabanie in the quarter-finals.
Monoz's path to this end was even more arduous. They beat a gritty Hardbody 4-2 before they made a comeback from a 2-0 half-time deficit to edge Highlanders 3-2 in the quarters.
Monoz got the better of FC Platinum in league encounters this season, winning the contests 2-0 and 3-0 respectively.
FC Platinum's frailties are likely to be exposed again in this match after three of their first choice players were ruled out due to injury. Benjamin Marere, Allan Gahadzikwa and Daniel Vheremu did not make the trip to Mutare.
Monoz too, have been hit by the injury of their captain Tawanda Nyamandwe, meaning vice-captain Kuda Musharu could start as a lone striker, although Zuze could partner him with the unpredictable Osbourne Mukuradare.
But it is in midfield where Monomotapa has been dangerous with Ronald Chitiyo and Russel Madamombe the main men. If these two are allowed to play, in particular Chitiyo, then FC Platinum would be in big trouble.
Chitiyo has won two consecutive man-of-the-match accolades in the previous Mbada Diamonds Cup games, which on its own tells a big story on his special talents.
Without Marere, Vheremu and Gahadzikwa, FC Platinum coach Tendai Chikuni will be looking up to talismanic midfielder Ali Sadiki while Joel Ngodzo is another player of exceptional talent.
Striker Donald Ngoma has been performing in fits and starts for FC Platinum this season mainly due to an injury he got at the start of the season, but his qualities are indisputable.
Monomotapa's probable line-up: A Mukandi, H Mugoniwa, R Chitiyo, T Ngulube, K Musharu, R Madamombe, O Mwerahari, J Tigere, M Mungombe, O Mukuradare, N Nelson.
FC Platinum's probable line-up: T Dube, Z Ngodzo, Q Amini, T Kamusoko, N Togara, C Kamhapa, C Sibanda, A Sadiki, J Ngodzo, W Ndiweni, D Ngoma.
Catch all the action live from Sakubva and Barbourfields on the NewsDay website, Facebook page and Twitter.