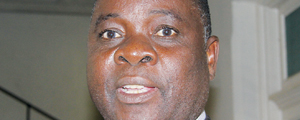 THE Parliamentary Portfolio Committee on Mines and Energy has urged the government to allocate more concessions in the Marange diamond fields and remove the soldiers guarding the area.
Report by Dumisani Sibanda Bureau Chief
In a 2013 National Budget review statement released on Tuesday, committee chairman Edward Chindori-Chininga said the development would free the area of heavy military presence.
"The creation of new diamond mining operations will create social and economic development, at the same time transferring the responsibility of area security to operating companies, as has been done with DMC, Mbada, Marange Resources and Anjin," he said.
"The parcelling out of concessions should be done in conjunction with further exploration, to enable the government to negotiate contracts from an informed position."
There have been concerns over the presence of security forces in the Marange diamond fields amid allegations of violation of human rights.
Chindori-Chininga also expressed concern over low revenue inflows from diamond sales.
"About $563 million worth of diamonds were exported and only $43 million in diamond dividend revenue was remitted to Treasury," Chindori-Chininga said.
"The committee also noted with concern that the Minister of Finance (Tendai Biti in his Budget statement) did not mention any revenues from the 10% royalties that is supposed to be automatically remitted to Treasury from diamond proceeds.
"The committee would like to know how much of the $563 million worth of diamonds export was paid as royalties to national Treasury."
It also lamented the absence of a clear diamond mining policy and said although a draft on this was before the Cabinet, the committee "had not had sight of it" to determine whether "the government has taken a step in the right direction".
"The committee would like to see the finalisation of a legal framework for the diamond sector, as this will enhance transparency and accountability over the production and marketing of the diamonds," Chindori-Chininga said.
"The committee observed that the ministry is undecided on whether to introduce a Diamond Bill or to amend the Precious Stones Trade Act to accommodate the challenges bedevilling the diamond sector.
"As a result, in order to circumvent this challenge diamond proceeds are not channelled through the formal procedures.
"In the process this creates loopholes for theft and loss of revenue to the fiscus."