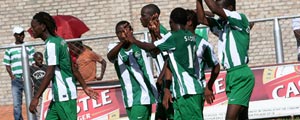 FROM the four games that have been played between FC Platinum and Monomotapa, the honours have been even and one side has the chance to claim the bragging rights when they meet at Sakubva Stadium on Saturday in the first semi-final of the Mbada Diamonds Cup.
SPORTS EDITOR
Platinum came into the Premiership last season and baptised Monomotapa 3-0 at Mandava Stadium before completing a double at Rufaro Stadium with a 2-0 win.
That season, Platinum finished second to Dynamos in the championship race although both were on 58 points, while Monomotapa struggled to a 10th place finish with just 36 points.
Tables have been turned around this season, with Monoz meting out revenge with a 2-0 win at Rufaro before completing their double with a 3-0 win at Mandava. As of Week 28, Monoz were in fourth place with 46 points and Platinum a rung down on 45 points.
Monoz overcame Hardbody 4-2 in the first round at Dulibadzimu Stadium in Beitbridge where Ronald "Rooney" Chitiyo scored the tournament's first hattrick.
Next up was Highlanders at the Colliery in Hwange where they came from behind to win 3-2 with Hillary Mugoniwa scoring the winner.
On the other hand, Platinum are no stranger to winning trophies as they have already bagged the Bob88 Super Cup and the Independence  Trophy under Tendai Chikuni and Rahman Gumbo respectively.  In reaching the last four, they swept past Harare City 3-0 at Nyamhunga in Kariba to set up a date with Shabanie Mine in the quarterfinals.
That fiery derby at Mandava was settled by Donald Ngoma's flashing header.
So, as Platinum prepare for the semi-final — they were knocked out at the same stage last season by eventual winners Dynamos — they are well aware they atone for their rather disappointing season by bagging their third silverware of the season.
In terms of player material, it's a balanced affair as Monoz are built on a solid passing game that involves Chitiyo, Kuda Musharu, Osbourne Mukuradare, Mugoniwa, Tendai Ngulube, Makai Kawashu, Brian Mapfumo and Tawanda Nyamandwe.
If coach Biggie Zuze gets his tactics right-he was bludgeoned by Kalisto Pasuwa's vision in Sunday's 2-1 loss at Rufaro — he will know that you don't put your most influential players on the bench and hope to win a match.
At Platinum, Chikuni does exactly the opposite. He used his most influential players as impact players in the second half which has seen Joel Ngodzo and Mitchell Katsvairo starting from the bench for most of the games.
Ali Sadiki, Allen Gahadzikwa, Donald Ngoma, Charles Sibanda, Thabani Kamusoko and Welcome Ndiweni have starting berths, but since there should be a winner in this match, he might be tempted to field his strongest X1. In the other semi-final, Dynamos and Caps United take their rivalry to Barbourfields Stadium on Sunday.
Dynamos have dominated the former Cup Kings and there is no doubt this is one match they expect to win with ease. Caps have a third coach this season after Mkhuphali Masuku replaced the banned Taurai Mangwiro, who had taken over from Sean Connor.
Masuku did not have a good start, losing 2-0 to Motor Action on Saturday and will be looking for a good return at BF, where he made his name as a coach at Highlanders.