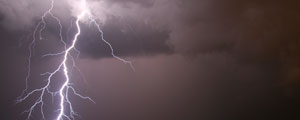 IN an incident that left residents shocked, a 22-year-old Chinhoyi man was fatally struck by lightning, while his teenage girlfriend sustained severe burns while the two were taking a stroll in a bushy park near Chirorodziva Primary School last Thursday. Report by Own Correspondent
Mashonaland West provincial police spokesperson Assistant Inspector Ian Kohwera confirmed the incident and identified the deceased as Obey Chibira Masika.
Kohwera said Masika's 17-year-old girlfriend had since been admitted to Chinhoyi Provincial Hospital after she sustained severe burns from the lightning strike which occurred at around 15:30 hours.
Masika was buried at Chinhoyi Cemetery on Saturday.
"The pair was walking along a footpath near the waterworks adjacent to Chirorodziva Primary School when suddenly a lightning bolt struck them," Kohwera said.
"A resident, Maxwell Rafamoyo, who was at a nearby borehole heard the girl's screams for help and rushed to the scene where he found Masika already dead while she had sustained severe burns all over the body."
The incident comes barely a month after lightning killed five family members in Alaska, situated 20km from Chinhoyi.