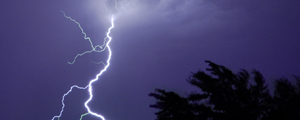 CHINHOYI — Six family members from Alaska reportedly died on Thursday afternoon after their house was struck by lightning.
Report by Own Correspondent
Mashonaland West acting provincial police spokesperson Assistant Inspector Ian Kohwera confirmed the incident to ZBC.
Chinhoyi mayor Chipo Mlotshwa also confirmed the incident yesterday.
"I can confirm that six members of the Murandu family in my ward were killed on Thursday afternoon at around 3pm after a lightning bolt hit their house," she said.
"When neighbours rushed to the scene, they found the mother lying dead outside the house, indicating she had been thrown out.
"The rest of the family members were discovered dead inside the gutted house."
Alaska residents, mostly of foreign origin, are superstitious and strongly believe the incident was as a result of witchcraft.