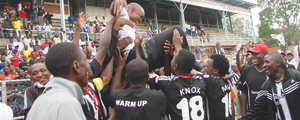 HIGHLANDERS coach Kelvin Kaindu has vowed his team will come back stronger than ever next season after narrowly losing the Castle Lager Premier Soccer League title to Dynamos on Sunday.
REPORT BY HENRY MHARA SPORTS REPORTER
This all but confirms he will spend another season with the Bulawayo giants despite interest in him from other financially-resourced clubs.
The Bulawayo giants agonisingly fell at the final hurdle, via goal difference, in their bid to end a seven-year wait for the title.
Bosso led the race excellently, going for 23 matches without a defeat. But a string of draws were always going to count against them in the end.
Highlanders beat Blue Rangers on the last day of the season to go par on 69 points with Dynamos, who drew against Hardbody.
Despite the painful ending, the Zambian gaffer chose to look at positives, stating that winning the silver medal boded well for rebuilding the squad.
"Maybe only somebody who is blind cannot see that this thing is heading somewhere," said Kaindu after receiving his silver medal at Gwanzura Stadium on Sunday.
"With the way we played this year, we are on the right track and next year we will be fighting for the big one.
"It's unfortunate that we didn't win the championship. I think it is God who planned the way things have ended," he added.
Kaindu praised his charges for pushing Dynamos all the way, but he made special mention of star midfielder Masimba Mambare.
The Soccer Star of the Year elect Mambare netted Bosso's second goal of the match to cap what could turn out to be an unforgettable season for him.
The former Motor Action player was on Saturday named among the 11 best soccer star finalists and was also voted Player of the Month for the months of July, August and September.
"I'm not saying that Masimba Mambare should get the Soccer Star of the Year award because he is my player, but if you look at his performance at Motor Action last season compared to the way he played this season, I think he deserves it," said Kaindu.
Mambare was equally ecstatic.
"When I began this season I had to seek God first and I think through Him, it's turning out to be what I prayed for. I want to thank the technical team for putting faith in me.
"First, I was not playing regularly, but they developed me into a better player and then started playing me in the first team. I delivered! All the credit should go to the technical team, my teammates and the supporters, who have been superb all season," said Mambare.
"It was a great season for us and I don't think our supporters mind that we finished second on the log. I think they are just happy that we played well this season. We fought for the title and it's very unfortunate that we lost at the last minute, but we had a great season and we thank God for that. We are prepared to work even harder to achieve what we failed to do this year," he added.
Highlanders might not have won the championship, but they have provided a record number of players on the calendar this year.
In addition to Mambare, Bosso have Mthulisi Maphosa, Innocent Mapuranga and Ariel Sibanda — who is also the goalkeeper of the year — capping a fine season in which he earned two caps for the Warriors in the failed 2013 Africa Cup of Nations qualifiers.