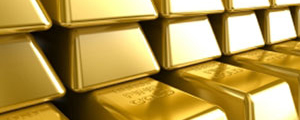 SINGAPORE — Gold traded steady yesterday following its biggest one-day rise in two weeks, supported by hopes of a United States solution to its fiscal problems and Middle East tension, but weighed down by a firmer dollar as a result of France's rating downgrade.
Report by Reuters
Financial market sentiment has improved in the past two days after US lawmakers expressed confidence that Congress could reach a deal to avert automatic tax hikes and spending cuts in early 2013, which could otherwise trigger another recession.
Rating agency Moody's stripped France of its top-notch rating, chilling the euro which had rallied to its highest in nearly two weeks on Monday and pushing the dollar index slightly higher, weighing on buying interest in dollar-priced commodities from investors holding other currencies.
"People are feeling a bit at ease about the budget talks in Congress," said Yuichi Ikemizu, head of Japan commodity trading at Standard Bank.
"But gold is in a tight range between $1 700 and $1 740 until we see a result of the talks at the year end, as the 'fiscal cliff' is the focus of the market."
Spot gold was little changed at $1 732,59 an ounce, after rising more than 1% on Monday.
US gold traded nearly flat at $1 733,10.
Technical analysis suggested spot gold may hover below a resistance at $1 738 per ounce for one trading session before breaking this level and rising into a target zone of $1 746-$1 749, said Reuters market analyst Wang Tao.
Citi expected gold to rise to an average price of $1 749 an ounce in 2013 from 2012's $1 679, peaking in the first quarter at close to $1 800, as the improving US economy and a stronger dollar limit the upside, it said in a research note.
"Gold may see another short-lived bounce in 1Q13 from further Fed action to replace the ending OT2 (Operation Twist), but signs of fatigue are increasingly apparent," the report said.