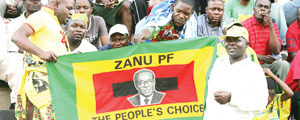 TWO senior Zanu PF officials in Gwanda yesterday caused a stir when they stormed Gwanda Town Council offices demanding that cattle be allowed to roam freely in the town's central business district (CBD)in search of pastures.
Report by Nqobile Bhebhe Senior Reporter
Sources said Zanu PF Gwanda Senator Japhet Dube and former Foreign Affairs deputy minister Abednigo Ncube invaded acting chamber secretary Xolani Dube's office and force-marched him to Gwanda Showgrounds.
They allegedly ordered council police to open the pens where several cattle that had strayed into the CBD had been detained.
Gwanda acting mayor Sithokozile Sibanda confirmed the development, which she described as ill-advised.
"I got a call that the two (Dube and Ncube) were at the acting chamber secretary's offices demanding that cattle be allowed to freely graze in the town," she said.
"However, I did manage to speak with Dube, and asked him the rationale behind their move.
"He said Gwanda has been declared a disaster area and council should allow cattle to graze in the town."
Sibanda said she told Dube that they should call for a meeting with residents and get their consent.
"As council, we won't allow such a move as that is against the set by-laws. If the cattle are knocked down by cars, council must compensate the owners and we don't have a budget for that."
Both Dube and Ncube were not reachable for comment yesterday.
Official statistics put the number of cattle that have succumbed to drought at over 2 000 with Beitbridge cited as the worst hit with 794 cattle deaths, Matobo (606), Insiza (292), Mangwe (184), Gwanda (179), Bulilima (130) and Umzingwane (23).
The government has intervened through the distribution of supplementary stockfeed under the livestock drought mitigation programme.