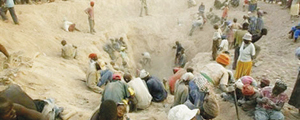 KARIBA — The Environmental Agency (EMA) has blamed lack of resources for frustrating its efforts to effectively implement policies aimed at safeguarding the environment.
REPORT BY OBEY MANAYITI STAFF REPORTER
Addressing civic society groups and Parliamentarians attending a Zimbabwe Environmental Law Association-organised workshop in Kariba on Monday, a senior EMA official, Aaron Chigona, said the agency was grossly underfunded.
"We have only 326 officers countrywide and they are not enough for the job. In other areas some are banned and they are not able to carry out their duties," he said.
"We are not even allowed to enter into Chiadzwa. We need to put a notice first to be cleared and yet we are expected to be everywhere. Our financial position is not satisfactory. For example, as an agency, we did a survey of decommissioned mines and we need about $34 million to rehabilitate each mine. People might label us toothless, but we are trying to carry out our mandate."
Participants had accused the agency of not doing enough to correct the environmental damage caused by some mining companies, especially in Chiadzwa and Zvishavane.
Chipinge South MP Sibonile Nyamudeza challenged EMA to stop complaining and protect the environment.
"We have approached your office on various occasions concerning water pollution around Chiadzwa, but we are given various excuses yet people are sitting on a potential time bomb. Why are you silent?" Nyamudeza asked.
Others accused the agency for being corrupt, a claim Chigona promised to investigate.