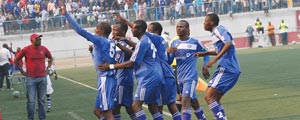 DYNAMOS chairman Keni Mubaiwa said they would go on the market for players, as they start preparations for the 2013 Caf Champions League journey after a disappointing appearance this season. REPORT BY WELLINGTON TONI SPORTS EDITOR
The champions, crowned on Sunday, fell at the second hurdle this year after falling 6-0 to former African champions Espérance of Tunisia on aggregate. They were then relegated to the Confederation Cup where they were dumped 1-0 by Angolan side Interclube.
This time around, Mubaiwa said the club must reach the later stages of the competition, having completed a tougher 2013 season.
"It was a tough season. All the games brought pressure on us, especially from Highlanders. But once we managed to get to the top, we never looked back.
"Looking ahead to 2013, we want to do better in the Champions League and reach the later stages of the competition. What happened in the last two seasons must not be repeated. We are going to beef up all the departments in the team to ensure we have a stronger squad," Mubaiwa said.
Dynamos, who face Monomotapa on Saturday in the Mbada Diamonds Cup final, need strong financial backing. In the past, they have had to face teams from North Africa where travel arrangements are a nightmare and general treatment is bad.
They are not entitled to the $150 000 from Mbada Diamonds which is a subsidy for taking part in the Confederation Cup. But Mubaiwa said their sponsors BancABC were ready to bankroll their campaign.
"They have promised us good sponsorship as they now know what is required in Africa. We have already started working on the budget for the Champions League and it will be presented to them soon. We want to have all things in place while there is still time," the chairman said.
Registration of teams for the two inter-club competitions close on November 30 while preliminary squads should be submitted by December 15.
Zifa chief executive Jonathan Mashingaidze said: "Dynamos will take part in the Champions League while Chicken Inn and Monomotapa will play in the Confederation Cup. For the second slot in the Champions League, we are still engaging Caf on the issue of Highlanders before we make the formal registration of teams."
Related Topics