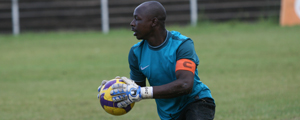 A RECENTLY-FORMED human rights organisation — Pan-African Development (Panad) — has declared the punishments meted out on football players and officials found guilty for their alleged roles in the Asiagate match-fixing scam a nullity, arguing that due process was not followed. Report by Sports Correspondent
The organisation said in meting out the punishments, Zifa violated their own statutes and those of world soccer governing body Fifa and had given the local soccer mother body two weeks to nullify all the suspensions, fines and bans imposed on individuals found guilty of receiving money from Asian betting syndicates to throw away matches between 2007 and 2009.
Panad chairman Ignatius "Boss Pams" Pamire — a former Dynamos chairman — told a news conference in Harare yesterday that his organisation was disappointed by Zifa for convicting people without them being tried.
Pamire threatened to drag Zifa to the High Court if they fail to nullify the sanctions within 14 days.
"There are a lot of grieving hearts today and some people are being punished for no reason at all, save for that they happened to be on the same plane or their names appeared on the team lists at Zifa even on occasions when some didn't travel at all.
"We are extremely unhappy as an organisation that people are being convicted without being tried, without being given a chance to defend themselves and without the due process being followed. The bottom line is that a disciplinary hearing was never conducted for anyone in this Asiagate issue and that is a violation of human rights and the rules and regulations governing such cases within Zifa or Fifa.
"By removing that right for people to defend themselves, Zifa has stripped them of their human rights and we feel that all the sanctions pronounced by Zifa are null and void. We are giving Zifa 14 days to nullify all suspensions, fines, bans and indeed all forms of their premature punishments, failure of which we will be left with no option, but to seek urgent relief in the High Court.
"We are worried that Zifa has turned into an extortionist organisation that now wants to rob players and officials in a well-orchestrated scam disguised as Asiagate," said Pamire.
He also sent their papers to Zifa, Fifa, the Sports and Recreation Commission, Council of Southern African Football Associations, South African Football Association and the Confederation of African Football and were expecting a response before approaching the High Court.
In their letter addressed to Zifa, Panad observed that the process of investigating, convicting and punishing alleged offenders on issues of match-fixing and illegal betting did not comply with the conditions established in articles 136 and 137 of the Fifa Disciplinary Code.
Meanwhile, FC Platinum are discussing the futures of nine of their senior players following fines imposed on them by Zifa for their alleged involvement in the Asiagate match-fixing scandal with the technical team set to make final decisions on that.
The club's official Facebook page said the Platinum executive, chaired by Tadson Zhou, met on Wednesday and resolved to consult the technical team at yet another meeting which was due to take place last night.
"At the FC Platinum executive meeting that took place yesterday (Wednesday), one of the hottest items on the agenda was the Asiagate ruling that saw nine of our players being instructed to pay money before December 31 to have their sentences lifted.
"The nine are: Ali Sadiki ($1 000), Benjie Marere ($2 000), Daniel Vheremu ($2 000), Tafadzwa Dube ($3 000), Zephaniah Ngodzo ($3 000), Khumbulani Banda ($3 000), Thabani Kamusoko ($3 000), Qadr Amin ($2 000) and Tsungi Mudzamiri ($1 000).
"The board resolved to engage the technical department to deal with the issue."
It is believed the decision to engage the technical committee emanates from a possible end-of-year clearance of some players deemed excess baggage as they start preparations for the 2013 season.
The club might, according to sources, assist some of the players they need next season as Zifa has set today as the deadline for any appeals to be noted. The appeal fee is $6 000 — a prohibitive figure for most of the players. If the players do not appeal today and fail to pay the fines by the end of the year, the various sanctions will come into effect.