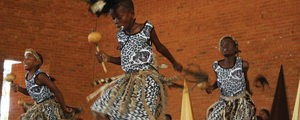 ALL is set for the annual primary school traditional dance contest, Jikinya, slated for the 7Arts Theatre in Avondale, Harare, on Saturday. Report by Sheryleen Masuku Own Correspondent
National Arts Council of Zimbabwe assistant director responsible for arts promotions and development, Audrey Charamba, yesterday said they were looking forward to hosting 10 schools at the finals.
"Provincial finals have been held throughout the country and we anticipate that they will be 10 groups, one from each province," said Charamba
"All the schools will be dancing amabhiza dance and another style of their choice."
The school that comes tops at the national final will walk away with $1 500 and a floating shield.
Meanwhile, Bulawayo province held its finals last Friday at the Amphitheater and Mkhithika Thebe Primary School won the ticket to the national finals.
The school walked away with $500, a floating trophy and an additional $100 for costumes, while Mbizo Primary School received the second prize of $300 and a floating trophy.
Nkanyezi Primary School received $200 for coming third.
The provincial finals were held concurrently with the National Association of Primary Schools Heads choral music competition.
The competitions were officially opened by provincial education director Dan Moyo.
In his opening remarks, Moyo hailed efforts from the various schools to uphold African culture through song and dance and emphasised the need to preserve the African tradition for future generations.
"We cannot afford to lose our songs as they represent our culture and entertainment. We need our cultural experts who will tell us what each dance represents, what it means to dance amabhiza or amantshomane. We need to keep that tradition and move it forward for future generations," said Moyo.
William Nyandoro, programmes officer for National Arts Council Bulawayo, yesterday said participating schools would be leaving for Harare tomorrow.
Mkithika will join finalists from other provinces.
"The schools will leave on Thursday (tomorrow) for the competition," said Nyandoro