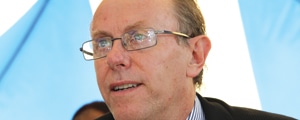 A local non-governmental organisation, Creative Arts and Education Development Association (Caeda), has embarked on the production of San language reading materials as part of a campaign to revive the minority language. BY OUR STAFF REPORTERS
In a statement yesterday, Caeda director Davy Ndlovu said the organisation was now producing books in a San language called Tshao with the assistance of some African languages scholars.
"The root of the Tshao language revival lies in the efforts of Caeda and the San (Tshara-Tshao) to try and re-establish the cultural identity of the San people.
"The project also seeks to revive the language before its extinction," Ndlovu said.
"Many have discarded their culture and followed the cultures of their neighbours.
"The government and NGOs are aware of this language crisis, but funding is allocated only for language recording, while limited funding is availed for language revitalisation programmes.
"Language is an essential component of one's collective and individual identity and, therefore, provides a sense of belonging and community.
"When the language dies, that sense of community is damaged."
There are an estimated 1 300 San people in Zimbabwe, mostly located in Plumtree and Tsholotsho areas.
"The San language of Zimbabwe has never been orthographed and it is difficult to come up with proper spellings, vowels and consonants," Ndlovu said.
Meanwhile, a US-based organisation, US Africa Children's Fellowship, is this month expected to ship in a consignment of 1 500 boxes of school textbooks and other educational materials to at least 75 schools in rural Matabeleland.
The educational adviser at the US Embassy in Zimbabwe, Rebecca Mano, confirmed the development on Monday.
"There are two organisers of this development, one is based in the US and the other one is in Zimbabwe and they are organising the shipping in of textbooks that will be distributed to Matabeleland rural schools this month," she said.
Education minister David Coltart said he welcomed the donation, adding that his ministry would, however, check if the books were compatible with the local educational curriculum.
"Many schools in Zimbabwe are generally facing a shortage of textbooks and other educational materials that is why we welcome this support," he said.