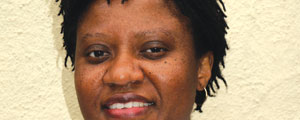 Being the first black student at Marlborough Primary School was enough to inspire Grace Mupfurutsa to be generous to the community.
Report by Tawanda Marwizi
She is one of the founders of a civic society group, Restoration of Human Rights (ROHR), which has been advocating for the respect of human rights in the country.
"After I realised how whites discriminated against us at school just after Independence, I became passionate about giving back to the community, leading me to spearhead these projects," said Mupfurutsa as she narrated how her journey began.
"It's not easy since some people think you are from a political party. We fought to have the group registered in August 2007," she said. Mupfurutsa said after having the organisation registered, they started working with different organisations to spearhead different projects. Up to date, she has assisted a woman co-operative from Budiriro, Harare, called Single Woman's Night Wash, with sewing machines, laptops and clothes for them to start business.
"We have already sourced materials and we are going to collect them by the end of this month from the UK where I was living," she said.
After her organisation ROHR launched a campaign dubbed "Woman and Children", Mupfurutsa is working with the Female Prisoners Support Trust to assist female prisoners with a number of basic commodities including food and clothes. "I have approached the organisation which had already been working with female prisoners and for now we want to partner them, giving them assistance. After they are released, things like money, food and basic needs should not be a problem," said Mupfurutsa.
In addition, she is planning to assist male prisoners with the same basic commodities.
She is conducting a number of workshops under the theme "More Health, More Wealth" educating people about HIV and Aids. "I have studied, health that's why I have decided to give back to the community by teaching people lessons about health, encouraging them to get tested because a healthy society is a catalyst for meaningful growth," she said.
She said she was sourcing funds to have the Constitution written on braille for the benefit of the visually-impaired people.
"People who are blind need to know what is in the constitution, but being a participant in the just ended stakeholders' conference, I have realised that the blind will not get a taste of the constitution. For now we are seeking funding to have the constitution written on braille," she said.
She said she was disturbed by the way Chipangano was invading Mbare, disturbing some investments which can give back to the community.
"You see them disrupting things there and recently one of our members Sten Zvorwadza was beaten up while trying to set up a paraffin plant which could have employed people in Mbare," she said.