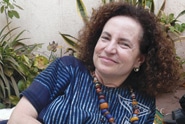 AS PART of its educational  programme designed to address the challenges facing young visual artists in Zimbabwe, First Floor Gallery has invited a senior New York-based artist and mentor,  Janet Goldner, to conduct workshops and a collaborative exhibition with the local artists.
Report by Simbarashe Manhango
Goldner has over two decades of working and mentoring experience in the visual arts industry.
To date, she has assisted artists in several African countries, including Mali and Ghana, to develop successful art practice and help build professional careers.
Supported by the Fulbright Senior Scholar programme, the initiative is part of an educational exchange   programme that allows experienced United States educators to support educational initiatives in Africa. The project also has the support of the Public Affairs Section of US Embassy in Harare.
The other objective of the programme is to enhance development of a better rapport and opportunities for exchange with the US education and culture sector. Goldner arrived in the country on Monday and she is currently conducting a two-week workshop with Harare artists.
Dubbed the Self Analysis and Critique in the Fine Arts,  the workshop addresses the needs of individual artists, while doing away with gender bias in the industry.
In an interview with NewsDay, Goldner said: "My visit to Harare is an engagement meant to focus on addressing the needs of individual artists and the needs of female artists in particular.
"The idea is to assist artists develop a better understanding of their own work, to learn to write about it, as well as working together to support each other's development without competing.
"Through analysis, conversation, co-operation and writing, artists develop a better understanding of their practice and the essence of communicating publicly about their work to develop audiences for contemporary visual art in Zimbabwe."
In addition to the workshops, the gallery has put in place a collaborative exhibition between Goldner and local artists that will bring theory and practice together. The exhibition will be launched on November 16 at First Floor Gallery, bringing together the diversity of personal practices of the artists as well as photography, audio and video interviews.
"The exhibition is a culmination of the whole process that we are currently going through. Every theory needs to be put to practice, hence this is yet another way through which artists can gain a deeper understanding of each other beyond the headlines," said Goldner. Marcus Gora, the gallery's public relations director, said this was one of the platforms that young artists in Zimbabwe needed to expand the horizons of co-operation.
"The importance of this programme is that it reflects that art can lead by example in the field of co-operation between countries and cultures," said Gora.
"Making good artwork is not everything that a young artist needs to build a successful career. Being able to talk about your work, explain your ideas to audiences and to really be honest and critical about your work are some of the biggest challenges facing young artists.
"Therefore, this is an opportunity for artists to benefit from art especially in the field of intercultural dialogue and co-operation between these two countries," he said. First Floor Gallery, Harare, has always focused on practical outcomes for young artists and is dedicated to helping artists develop professionally. Recently, the gallery operators revamped the space and it continues to offer spaces to new and emerging contemporary visual artists in the industry. Goldner will leave the country towards monthend after completion of the collaborative exhibition.