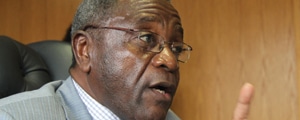 THE Zimbabwe Football Association (Zifa) board is expected to meet today with discussion of the sanctions imposed on players and officials found guilty for their alleged involvement in the match-fixing scandal in Asia set to be one of the top items on the agenda.
Report by Tawanda Tafirenyika Sports Correspondent
The failure by the Warriors to qualify for the 2013 Africa Cup of Nations finals in South Africa after squandering a 3-1 lead from the first leg to lose 2-0 to Angola and crash out on the away goals rule, is also set to dominate the Zifa indaba.
Rahman Gumbo and his men have been blamed for failing at the last hurdle after the corporate world rallied behind the team after it raised over US$500 000 to cater for its travel expenses as well as a US$10 000 winning bonus per player.
The players had also been promised residential stands, but agonisingly crashed out of the biennial soccer showcase.
Zifa president Cuthbert Dube has said that the board would make bold decisions after the Angola debacle. He hinted that the team could be dissolved to start a rebuilding exercise around the junior teams. Gumbo's future as the coach of the Warriors is also set to be discussed.
But the board is expected to devote much of the discussion on the Asiagate scandal, which has already claimed the scalps of some players and officials found guilty of match-fixing by the Independent Ethics Committee led by retired Supreme Court judge Ahmed Ebrahim.
Zifa has handed life bans on 15 players and officials for their alleged roles in the scam following the conclusion of investigations into Asiagate by the committee. The recommendations are, however, still to be endorsed by world soccer governing body Fifa to have worldwide effect as Zifa are still to furnish the soccer controlling body with more information.
But that has courted controversy with some of the implicated players still being involved in the game while others have stopped taking part after they were notified of the bans.
Dynamos defender Guthrie Zhokinyi — handed a life ban for his alleged instrumental role in negotiating the amount to be paid to the team after having travelled just once as captain of the team at the Cecafa tournament — has stopped playing for DeMbare after he was warned by Zifa first vice-president Ndumiso Gumede not to involve himself in the game anymore.
Quelaton assistant coach Danisa Phiri has also stopped working for the team.
Former Warriors skipper Method Mwanjali and defender Thomas Sweswe are some of the players slapped with life bans by Zifa.  The association is, however, expected to upgrade or downgrade some of the sanctions recommended by the ethics committee on other players and officials found guilty.