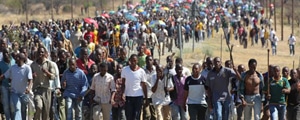 JOHANNESBURG —A storm of violent wildcat strikes in South Africa's mines has eased, leaving President Jacob Zuma battered, but defiant and buoying his chances of heading off rivals to win a party leadership election in December.
With most workers in gold and platinum mines returning to work after threats of dismissal and some sweeteners on pay, the 70-year-old head of state appears to be weathering the biggest threat so far to his plans to stay on as leader of the ruling African National Congress (ANC).
In the worst mining violence since the apartheid era, at least 50 people have died over several months; it has dented investor confidence in Zuma's handling of Africa's largest economy and led to downgrades of its sovereign credit ratings.
Zuma's populist image has also been tarnished by the killing by police of 34 strikers at Lonmin's Marikana Mine in August, the bloodiest security incident since white minority rule ended in 1994. His government has faced fierce criticism that its response was slow and insensitive.
But in a country where ANC dominance of the political system counts for as much as superficial popularity, the overall waning of the strikes has given Zuma political room to marshal the support he needs to carry the internal election in December — despite a lingering threat rivals might join forces to oust him.
"The sentiment seems to be coalescing around Zuma's re-election bid, with it appearing for now that the worst is over for the strikes," independent political analyst Nic Borain said.
"But this does not address the fundamental issues that have changed as a result of the strikes." — Reuters