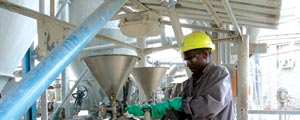 ZIMBABWE'S second largest platinum miner Mimosa has paid $125 million in royalties amid concerns by the government that mining firms are not significantly contributing to Treasury, a company executive said.
Report by Kupakwashe Makonye
The government currently levies 15% corporate tax on net profit generated by miners, as well as royalties ranging from 2% for base metals to 10% on platinum, on mining firms extracting the resources.
Mimosa managing director Winston Chitando told journalists touring the operations last week that the platinum miner had paid $80 million to local suppliers as part of empowering the locals.
"In the last financial period, local payments amounted to $254 million. $24 million was paid to local authorities, $105 million was paid out to local supplies, of which $81 million was for indigenous suppliers, while the remainder $125 million was paid out to the government in royalties and other taxes," he said.
Chitando added that the mine had been conducting feasibility studies over the last two years and would continue to pursue various options in terms of expansion.
Mining operations, Chitando said, have not been affected by intermittent power outages besetting both domestic and commercial consumers following an agreement with power utility Zesa and Mozambique's Hidroelectrica de Cahora Bassa (HCB).
"So far, they've lived up to that agreement," he said.
"The mine did not have any power problems following the agreement with Zesa to pay the HCB Mozambique debt. The payment assured the company of three years uninterrupted supply. The mine uses at least 20megawatts (MW) per month."
Most Zimbabweans experience power cuts for at least four hours a day because Zesa produces only about 1 400MW against demand for about 2 200MW of power.
Mines and smelters are among the country's biggest power consumers.
Chitando said shareholders were committed to meet equity laws compelling foreign-owned firms to sell 51% stake to locals, adding that negotiations with the government over the policy were in progress.
Early this year, Zimbabwe hiked mining fees and levies by up to 5 000% for some precious metals in a bid to plug revenue leakages and discourage speculative holding of mining claims.
Zimbabwe has the world's second largest platinum reserves after South Africa.