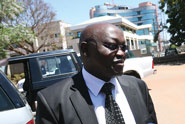 TOP Harare lawyer Jonathan Samukange is suing three Zanu PF officials in Harare for allegedly labelling him "a crook and a liar".Report by Feluna Nleya Staff Reporter Samukange, who is reportedly eyeing a Mashonaland East parliamentary seat on a Zanu PF ticket, is demanding $550 000 in damages.
In the papers filed at the High Court on August 6 this year, Samukange accused the Zanu PF officials, Nyasha Chikwinya, Winston Dzawo and a third one only identified as Saungweme, of causing the publication of an offending and defamatory document in July to various people, including officials from his law firm and Zanu PF politburo member Kumbirai Kangai.
The alleged defamatory minutes were to the effect that: "We hear he refers to his lawyer, the aspiring MP for Mashonaland East, Jonathan Samukange. He is a crook. He does not tell people the truth. At one stage he assumed directorship for another company and when we asked him, he could not answer us. We then said to Minister Kangai, you see what this man does. His name is not good in Zanu PF circles. If he comes here we will deal with him."
Samukange is also demanding that the Zanu PF officials pay the legal costs.
As of Friday, the three Zanu PF members had not yet responded to Samukange's lawsuit.