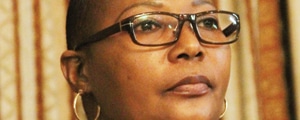 DEPUTY Prime Minister Thokozani Khupe on Wednesday launched the Thokozani Khupe Cancer Foundation, setting the tone for a campaign against the disease which has now become one of Zimbabwe and Southern Africa's deadliest killers. Report by Moses Matenga Staff Reporter
During the launch, Khupe, who disclosed she had breast cancer sometime last year, challenged the government to accord cancer the same status as that given to HIV and Aids and create a special levy to address the problem.
"I wonder how some other women are able to survive with cancer because we have an example of civil servants who have the disease and are supposed to part with $450 a month for treatment yet they only get $300," Khupe said.
"We are letting women to die out there and I would like to say to DPM (Arthur) Mutambara, the PM's wife and others here, it's time we give special prominence to cancer."
Khupe said: "It's a silent killer and early detection is important. When I started feeling a lump in my breast, I said nonsense. I went into a denial phase, but later I went to a doctor and told him about the lumpish thing. I didn't know whether it was the lump causing the pain or the pain was causing the lump."
In a speech read on his behalf by Health and Child Welfare minister Henry Madzorera, Prime Minister Morgan Tsvangirai cited the shortage of radiotherapy machines as a challenge. He also complained about the high cost of chemotherapy drugs.