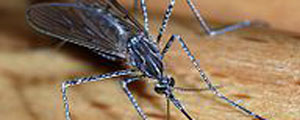 VICTORIA FALLS — At least 655 000 people died of malaria out of 216 million cases in Africa in 2010 due to increased breeding of mosquitoes as a result of warm temperatures and increased rainfall in some parts of the continent, the World Meteorological Organisation (WMO) has said.
Report by Richard Muponde Senior Reporter
The organisation released the information at the ongoing second session of African Ministerial Conference on Meteorology in Victoria Falls yesterday.
WMO said there was need to carry out malaria mitigation strategies by African countries to reduce the death toll.
"Malaria mitigation strategies require a combination of preventative and curative treatment and close collaboration between the health and climate sectors. Countries increasingly incorporate early detections in their malaria control efforts. This entails careful monitoring of climate conditions favouring pending outbreak," WMO said in a statement.
The organisation said timely provisions of climate information with several months lead-time could be combined with well-targeted response strategies that provide distribution of medication, insecticides and bed nets to vulnerable communities.
"The malaria early warning systems combines seasonal rainfall forecasts with vulnerability assessments and population and health surveillance information. Examination of climatic variables which influence the proliferation of mosquitoes facilitates the prediction of potential outbreaks. The technique gives health programme officers up to four months of advance notice," the WMO said.
WMO added that in recent years there has been an increasing collaboration between public health decision makers and weather and climate specialists on epidemic-prone infectious diseases.
"Multiple sectors, partners and international organisations such as World Health Organisation and WMO are involved. Initiatives on meningitis and leptospirosis are examples of innovative framework to support public health preparedness and control strategies for climate and environmentally sensitive diseases of international concern," the WMO said.
Meanwhile, WMO said with an estimated annual incidence of 1,7 million cases and 123 000 deaths internationally,leptospirosis has emerged as a complex major public health problem.
"Within the last decade, there has been a worldwide increase in the number of reported outbreaks, specifically linked to severe weather such as flooding from tropical cyclones. The sensitivity of the disease to certain environmental conditions suggests that climate change may influence the nature of the disease and the size and severity of outbreaks."