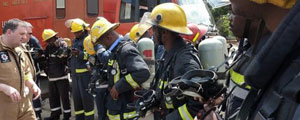 Firefighting initiative, Operation Florian, will soon expand from Bulawayo to other urban centres that will get an array of fire equipment, protective clothing and fire tenders.
Report by Fortune Moyo
The operation is a British humanitarian charity programme aimed at protecting life in communities worldwide by providing equipment and training to improve fire-fighting and rescue capabilities. According to the latest Bulawayo City Council (BCC) minutes, the operation ends next year.
Town clerk Middleton Nyoni said: "Council has a longstanding relationship with Operation Florian which will next year escalate to Phase Three. The escalation will see the operation donating an array of equipment, protective clothing and three fire tenders."
The council report stated that in order to capacitate brigades in Zimbabwe's Western region, Operation Florian had put forward a proposal to donate firefighting equipment to other towns.
"Operation Florian has put forward a proposal to donate firefighting equipment to Gweru, Victoria Falls, Plumtree, Gwanda and Zvishavane," the minutes stated.
"Due to the relationship the operation has with Bulawayo, the organisation has requested that BCC premises be used as training grounds."
The proposed donation will capacitate other fire brigades in the region which should, in the long run, lessen the burden on the local authorities' emergency services, especially in the face of dwindling manpower levels.