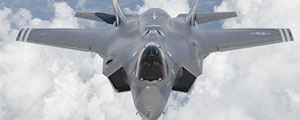 WASHINGTON/LONDON – To win approval for their planned $45 billion merger, EADS and BAE systems must persuade Washington to let a pan-European behemoth control some of the most sensitive United States defence contracts, without triggering a political backlash.
Report by Reuters
Defence industry experts say it should not be difficult for Washington to protect its security interests in allowing the deal to go ahead, but the politics could become complicated if Boeing and other competitors lobby against the deal.
"The security issue can be dealt with if the deal is structured properly," said Loren Thompson, chief operating officer of the Virginia-based Lexington Institute think-tank.
"The only way this deal can be blocked in the US is if opponents demagogue the issues of security."
The merger must first be cleared by European officials and companies and shareholders must agree terms, but US approval would eventually be necessary as well.
BAE is British in origin, but increasingly it has become a trans-Atlantic firm, easily the biggest foreign company in the US defence sector. The US military is its biggest customer and accounts for nearly half of its global revenue.
Its US defence operations are precisely what would make it such an attractive partner for EADS, the Franco-German maker of Airbus civilian jetliners.
Under a complicated Special Security Arrangement with the US government, BAE's US defence businesses are kept under separate management and run by Americans, allowing it to bid for and work on contracts involving top secret technology.
Theoretically, there is little reason why those safeguards could not remain in place after a merger with EADS.
But politically, it may be one thing for Washington to allow defence deals with a private sector contractor from Britain – its main battlefield ally in Iraq and Afghanistan – and another thing entirely for it to co-operate so closely with a European giant, partially controlled by the French state.
Opposition in congress could be sparked quickly, given long-simmering mistrust of France and concerns about European trade subsidies, said an executive for one of the biggest US weapons makers who asked not to be identified while speaking about the deal between the European firms.