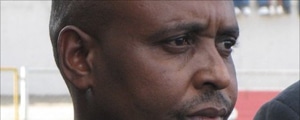 The Warriors will play a friendly match against a regional opponent ahead of their decisive Africa Cup of Nations final qualifier second leg match in Angola early next month, Zifa has said.
Report by Henry Mhara Zifa chief executive officer Jonathan Mashingaidze yesterday said they are still in negotiations with a possible opponent.
"The problem is that there is no Fifa date set for a friendly match before we travel to Angola, but we would have wanted our team to play a friendly match.
Even if we can get it, it will be almost impossible to call our foreign-based players to come for a friendly match which is not on the Fifa calendar so the only option we are left with is to have a friendly match enroute to Angola. This is a very crucial match which we have to adequately prepare for to avoid a last minute rush," said Mashingaidze.
Mashingaidze added that they are talking to some countries in the region although he refused to give away any names.
However, Botswana could be the likeliest opponent as they have in the past shown interest in playing the Warriors.
The two countries played a friendly match in Gaborone in January and Botswana have been calling for the "return leg" in Zimbabwe.
Mashingaidze said the Zifa board will meet "very soon" to make plans on the preparations of the Angola tie.
"The only delay (board meeting) is that the Asiagate report has not been released, but as soon as we get it then we will sit. The agenda for the board meeting will be the Asiagate report and the Warriors' preparations for the second leg in Angola."
The issue of player call ups for national duty will certainly dominate discussions at the board meeting after key players Tinashe Nengomasha and Knowledge Musona missed the first leg tie.
The two could not make it to Zimbabwe after their clubs Bidvest University and Augsburg refused to release them.
The two clubs argued that they received request letters very late.
Mashingaidze said he is in the process of engaging all the football associations where Warriors players are based.
"As far as we are concerned all the letters went on time, but some of these football federations have their internal problems. In South Africa they have problems even with their local teams in releasing players for national duty.
"The only way forward is to engage all the football associations and clubs where our players are so that we have a good relationship. We need to do that and I'm in the process of engaging them so that what happened with the two players won't happen again in future," said Mashingaidze.
He called for the government and the corporate world to help Zifa ahead of the Luanda trip.
The Warriors have a comfortable 3-1 lead and if they avoid defeat by two clear goals they will qualify.