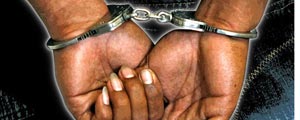 GWANDA — A 34-year-old man from Stanmore area has been slapped with a four-year jail term for kidnaping an eight-year-old child before he was intercepted by fellow villagers and handed over to police.
By Staff Reporter
Promise Msemane was last Friday sentenced to an effective 48-month prison term after Gwanda magistrate Shillah Nazombe found him guilty of the kidnapping charge.
The court heard that on August 6, Msemane went to Mzimuni area in Gwanda North where he kidnapped an eight–year-old girl, Hazel Mlotshwa.
He force-marched the girl to walk a distance of over 5km using a cattle path in the bush.
However, another girl positively identified her and inquired where she was going. Realising that his mission was about to be busted, Msemane grabbed his captive by the hand and fled with her. Fellow villagers later mounted a search party and tracked down Msemane. When he realised that he was being pursued, Msemane fled leaving the girl behind.
However, the villagers continued pursuing him until they caught him and handed him to the police in Umzingwane district three days later.